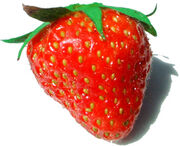 An accessory fruit (sometimes called false fruit, spurious fruit, or pseudocarp) is a fruit in which some of the flesh is derived not from the ovary but from some adjacent tissue exterior to the carpel. Examples of accessory tissue are the receptacle of strawberries, figs, or mulberries, and the calyx of Gaultheria procumbens or Syzygium jambos. Pomes, such as apples and pears, are also accessory fruits, with much of the fruit flesh derived from a hypanthium.
Fruit with fleshy seeds, such as pomegranate or mamoncillo, are not considered to be accessory fruit.
The terms false fruit, spurious fruit, and pseudocarp are older terms for accessory fruit that have been criticized as "inapt", and are not used by botanists today.
References
Edit
Ad blocker interference detected!
Wikia is a free-to-use site that makes money from advertising. We have a modified experience for viewers using ad blockers

Wikia is not accessible if you've made further modifications. Remove the custom ad blocker rule(s) and the page will load as expected.